Mississippi Brick Masonry is an established business undertaking large scale masonry packages throughout the Mississippi area. Our team has years of experience in all brickwork services which can be used for all tasks, designing, developing, and construction to ensure safety and quality. If you want to build, restore or repair any kind of brick structure, we are your bricklaying expert! Call us today for a free quote!
No matter whether your brickwork needs are big or small – our focus is personalized service!
We cater all types of brickwork and bricklaying services.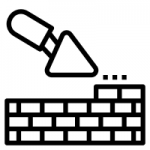 Mississippi Brick Masonry is a contractor that specializes in brickwork and masonry. We have a rich technical knowledge and a profound history of creation. We maintain an efficient, high-quality completion process supported by thoughtful solutions that allow for reliable and efficient workmanship which has driven our upstanding reputation among companies with demanding timelines.
We specialize in bricklaying and undertake all aspects of bricklaying services to customers throughout the Hattiesburg, MS and surrounding areas. Throughout our experience with both domestic and commercial projects, we have provided the highest quality work at the most competitive prices. We have worked on varying levels of projects from garden walls to extensions to national chain supermarkets and everything along the line.
For over 12 years, experts from our company have been focused on exceeding the expectations of our customers. We have been determined to deliver complete satisfaction for each and every home or building project that we take on. We also work hard on providing outstanding customer service, which is why you can be confident that we will deliver great results for you. Below are just some of the services that we provide including brickwork renovations like brick walls, brick mailboxes, brick stairs, and few others!
The price will vary depending on the individual project, so we are always aiming to please. We strive to provides a high-quality workmanship with a competitive pricing. So what are you waiting for? Get in touch with us now and we'll happily help you out. Feel free to give us a call and we're more than happy to tell you about all of the brickwork services/products/resources that we have available. No matter whether your needs are big or small – our focus is personalized service!
Brick Walls Exterior and Lamp Post
Mounting the exterior cladding, brick masonry walls can serve as a portion of the wall system or structural design. Brick masonry walls typically have a much stronger fire resistant quality than other materials. Brick masonry walls are made up of layers which usually include all the bricks.
Faces Brickwork
Face brickwork are more attractive than standard bricks, with sides more accurately finished and smoothed. Colors also are more uniform both within individual bricks and within a shipment of stacked brick boxes. Face brick can vary in size from common brick sizes but also is produced in other dimensions for decorative purposes.
Brick Mailboxes
If you have a mailbox that has been destroyed or completely damaged, or your mailbox has been hit by a car, that mailbox is unlikely to be repaired and needs an overall brickwork. If your mailbox is not completely destroyed, only bricks missing or if your receptacle has rust on it might just need some minor repairs. If there is a chance of regrowth or re-assembly, then it's probably more profitable and time-effective to repair the existing structure.
Steps & Walkways Brickwork
First impressions can make or break a project, and there's nothing more powerful than a grand entrance. A brick masonry set of stairs is an absolute must for a spectacular front door–no one wants to mount on economy-duty wooden steps that will only last 9 months before the color starts to fade and the nails stick out of them. A generation ago, less expensive wooden steps were more prevalent: they do not provide the beauty and longevity of older brickwork affairs. As today's builders rely more on economies in order to keep their projects affordable, we're losing value in this vital accessory.
Fireplace & Chimney
We know how necessary it is to provide top-notch building, repair, or restoration services for chimneys or fireplaces. Thus, our goal is to deliver long-lasting value of brickwork. Mississippi Brick Masonry aims to make you the best ovens, fireplaces, chimneys, and accessories. If you need to have your home's chimney or fireplace fixed, call us today.
Lamp Post Brickwork
We can build lamp post on an existing patio, pavement or brick wall. Call us with the details!
Exterior Veneer
Although brick and stone veneer are more affordable, they are still perfect for decorative purposes. Mississippi Brick Masonry an expert of different kind brickwork would recommend that home owners install a house wrap underneath to prevent water damage and rot due to the amount of weight this option offers. It is mainly used as a decorative product making this option best for lesser homes.
We are a bricklaying contractor and we will be able to install your stone veneer for a beautiful appearance and insulating, waterproof protection. We will also be able to help you choose other materials such as natural thin stone veneer depending on your budget and design preferences.