If you want an outdoor kitchens that completely blends with your home exterior, that is custom-designed and fully equipped, we at Mississippi Brick Masonry are the right people for you! We built outdoor kitchens and barbecue pits of the highest quality and help our customers bring their vision to life with a diverse selection of features.
At Mississippi Brick Masonry, we are committed to delivering quality workmanship through quality materials at competitive rates. With that being said, learn how you can enjoy the convenience of your outdoor kitchens–maintenance-free –while recreating your way of life outside of your home! Give us a call.
Upgrade your grill and host an outdoor party under the beautiful sky with friends and family by using our custom outdoor kitchens and barbecue grill.
We are your local brick masonry contractors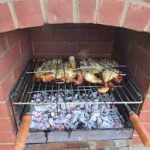 Building an outdoor kitchens from brick is one of the good options. Building a brick outdoor kitchens on a concrete slab is complex and take a great deal of time , but the end result will be durable and long lasting. A modular design offers added features and customization, as well as eliminating having to finish your outdoor kitchens with any materials besides brick.
Do not attempt to lay bricks yourself if you have had no experience using them before. Hiring an experienced about of bricklaying, if possible, will help you achieve strong results that will outlast any other materials.
Outdoor kitchens are not built in the same way. There are a variety of available manufacturing methods for kitchen designs and materials based on the choices of a construction company. The construction materials, or base, used should be able to hold up well in tough weather conditions. Some options include concrete block, brick, wood, or steel. Building an outdoor kitchen can be a complex process. For safety and durability, it is essential to hire experienced construction contractors.
Outdoor kitchens and barbecue grill installation and repair is one of our expertise. Call us to get a free quote today! View our full services here.
Starting an Outdoor Kitchen Project
Outdoor kitchens are redefining how people live in the countryside. They're often used for entertaining family and friends at candlelit dinners, thrilling pool parties, or barbeque parties year-round in an appealing outdoor atmosphere.
The first step to a successful outdoor kitchen project is deciding what it's going to look like and consider some factors that will impact the use, style, and budget of the kitchen.
Choose your Location
When planning for your outdoor kitchens, it's important to think of space for fun and relaxation. If you have a patio or pool and spa, an outdoor kitchens can increase the entertainment value while providing a relaxing break from preparing meals.
Close to the House VS Away from the House
Location of your outdoor kitchen can affect its use, convenience for cooking and entertaining, and your budget.
It provides easier access to your indoor kitchen if ever you need something like dishes, cookware, and extra appliances if you build your outdoor kitchen close to the house. You can build it on the side, under your patio cover, on your deck or anywhere close to the house.
Making an outdoor kitchen away from the house can give you the designated entertaining space. When it's placed away from the house requires the connections of gas, water, and electrical lines that need to be routed to your outdoor kitchen. This will often increase your costs and should only be done by a professional with Expert knowledge of building codes in your area.
If you want to blend your outdoor kitchens to your home exterior, we can do brick home remodeling too!
Outdoor Kitchen Essentials
We will help you choose your outdoor kitchen's accessories based on their function and design. From selecting outdoor kitchens equipment like choosing a grill, installing a refrigerator, small stainless-steel sink, counter and storage space, and dining area. Consider these essential pieces when selecting your outdoor kitchen.
Barbecue Grill
Outdoor kitchens require a grill or other vessel to cook, and these range in quality and expense. Popular units rely on wood (charcoal), electric (gas and/or hybrid), and hybrid grills that can burn either fuel type. Outdoor kitchens may also include special hoods and smoke vents to properly vent the fire pit. The goals should be fitting into their outdoor setting while cooking, avoiding expensive heating elements such as radiant heaters, maximizing efficiency of the cooking island. Top-quality grills allow for sleek designs using any building materials including steel, wood or teak while maximizing flexibility for surface fits and finishes dependent on the client's style preferences.
Barbecue Grill With Adjustable Grate
Argentinian barbecue grill styles have a fire pit with a lifting grate which adjusts to regulate heat of coals more carefully.
Barbecue Grill-Smoker Combo
A cylinder-shaped smoker is fueled by a fire pit and becomes a grill with the addition of a grate.
Fireplace Barbecue Grill
Want some helpful tips for building an outdoor feature? Lined with firebrick and clad it with stone veneer, then we have your pre-cast fireplace kit outdoor barbecue grill. Then lift and attach antennas and turn your piece into a cooking hearth by adding pieces like angle irons and grill grates to hold the joints in place securely.