Want to have pavers installed in your home? We install and repair pavers in Hattiesburg, MS, and surrounding areas.
We offer warranties on our pavers installations, too. Just ask us about warranties when you call to schedule an estimate. And we have tons of options for you, whether you need brick pavers or stone pavers for patios, driveways, walkways, or pool decks. Contact us to for free quotes!
We at Mississippi Brick Masonry will install or repair the best pavers or stone for you outdoor living space.
We Install and Repair Pavers for Commercial and Residential Customers in Hattiesburg, MS and surrounding areas.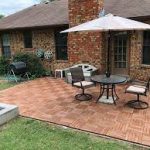 You can choose on a variety of styles and colors, add character and value to your home's outdoor space. It has many advantages over poured-concrete, especially the fact that they are practical, yet durable.
At Mississippi Brick Masonry, we provide a complete pavers installation and repair services. Whether you want a custom patio, driveway, pool deck or steps or sealing work, we're here to help plan your project from start to finish and build your dream from the ground up.
Homeowners and business owners can pick a brick or stone design, and our team will install and make it look beautiful.
In order to make sure your pavers can last forever, you should not install them over concrete. We use a special joint stabilizing method that will make sure they stay in place for a long time.
Our goal as a paving contractor is to provide all of our customers with high-quality workmanship and completed projects that exceed expectations, with over 12 years of experience. We look forward to building lasting relationships with our clients and meeting you for your hardscape and brick services needs.
Services Offered for Pavers Intallation and Repair.
Pavers of different materials such as brick and flag stone have long been used to build outdoor patios in Europe and America. They are the most preferred material for patio pavers today.
They are flexible construction materials that can be easily accommodated for design styles, which is why they often end up becoming the best option for homeowners.
Interlocking Pavers
Our interlocking stone pavers wont snap and break when the earth shifts beneath them, they are individual, sand-jointed stones that can hold enough to prevent it from breaking.
Since each block of paving stone is installed individually, repairs and replacements are easy. In the event of worn down blocks, the old stones can easily be removed and replaced.
Driveway
Paved stone driveways are a welcoming, tangible aspect of an outdoor space – they provide physical beauty as well as create a pleasant atmosphere. In addition to their functional aesthetic qualities, the modest uplifting effects from adding driveway pavers contribute to increasing curb appeal.
Professionally installed driveway pavers can handle the roads without cracking while maintaining a low moisture absorption rate so they will not become spotted or discolored.
Patio
Patio pavers can instantly add desirable properties to a site. They offer a more beautiful and charming patio or courtyard for special events where you entertain while experiencing a more tranquil yard while spending time just with your family.
You can choose from wide variety of different colors so you can match your walkways or pathways while creating beautifully unique patterns and designs to add character, charm, and part of your own personality to your patio.
Protect your new hardscape surface from cracking, fading, and other damage caused by moisture, wear, and tear. That's because paving stone are designed to stand up to effects of strenuous weather conditions.
Pool and Deck
We offer a variety of materials, shapes, and sizes for pool coping and deck pavers. And we have the necessary tools to create your perfect pool deck.
The beauty of our work will set your home apart on your block that will add to the ambiance. Paving stones are an element of design that lead to outdoor spaces.
Our pool pavers are the perfect option for your pool deck. They are slip-resistant, have dense yet absorbent makeup to maintain compression strength while also aiding with moisture absorption.
Walkway
A range of styles from which to choose, our walkway pavers come in a variety of different shapes and sizes, making them ideal for your personal style, the architecture of your home, and your desired lifestyle.
A well-designed walkway is easy to change in order to add style and intrigue to any outdoor space – like a outdoor kitchens. We can make it possible for you to transform even the most functionally designed aspects of your outdoors space – like outdoor custom made structure – into an object of beauty. Our works are designed to look like new for years.
We can guarantee you our pavers will require minimal maintenance because of the durability and robust construction materials we use.