Retaining walls make your yard less susceptible to erosion and make it more usable and aesthetically pleasing, we will install retaining walls for this purpose. Mississippi Brick Masonry will rebuild or build new ones for you if need be.
Retaining walls provide stability for hillside or snowy areas— stone walls are probably the most durable construction methods, but they require lots of work.
Retaining walls need to be installed under a robust foundation! Customers who entrust their retaining walls to Mississippi Brick Company can depend on the supervision of Mississippi Brick Company's professionals, who use high-quality materials. Reach out to the company today to get your free estimate for your arched wall job and other services!
Contact us to come visit your property and help you choose the best places for retaining walls installation.
Commercial & Residential Retaining Walls Mississippi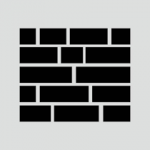 At Mississippi Brick Masonry, we know how beneficial retaining walls are for properties and the benefits they can add to homes or businesses in Hattiesburg, MS and surrounding areas.
Our team of retaining wall professionals has the knowledge and experience needed to handle any project, large or small.
A retaining wall contractor will be able to take care of all of the design, installation, and structural work.
As a concrete retaining wall contractor in Hattiesburg, Mississippi and surrounding areas, we focus on designing and manufacturing concrete retaining walls that meet your aesthetic expectations while resisting the infiltration of the exposed perimeter by soil without disturbing its beauty.
Retaining wall dedication and design is more effective when it's carried out by professionals who go through the process from the beginning to end. Get your construction done by people employed by Mississippi Brick Masonry.
We serve both residential and commercial to build customized retaining walls. We are well known for our high-quality workmanship that also includes durable, aesthetically appealing designs. Use us for your concrete retaining wall needs; whether you need it for your personal residence, commercial property or brick home remodeling. Allow customization into the project to create the best-looking design you can imagine — we're here to help!
Functional & Decorative Retaining Walls
A sturdy concrete block retaining wall, typically established at the top of steep hills, will keep erosion in check. It can also act as a solid divider between two areas of property to reduce the need for landscaping efforts. The retaining wall should be designed like a solid divider; once it is put in place, it will last many years without requiring any repairs or maintenance.
If you want to increase the value of your home, retaining walls is an affordable way to do it. They can also be customized in a number of ways with different colors, textures, or designs. When the retaining wall is installed properly by our team of experts, there is significant room for customization to meet your desired look.
Brick
Brick retaining wall constructions currently fall into two categories that often look nearly identical. It is the material and method of construction that makes the difference to the homeowner. When it comes to saving money on home building, these two types are virtually indistinguishable for most people.
Cavity Wall
A retaining wall made of brick is called a "cavity wall", which consists of two standard brick walls just inches apart that share the same footing. Amid them are steel bars that are present between them, which are subsequently filled with grout or concrete to make it solid above them. They have little structural integrity before they are made COMPLETELY watertight with bricks on the ground reaching up the entire length of all four sides of the wall. This means brick is needed from within to above in both rows on top of the grounded wall, typically increasing the cost due to materials and labor.
Block Core Wall
Today this method is more common since the invention of the concrete masonry unit (CMU). The wall consists of CMU blocks which compress the steel within its cells. The concrete is poured into the openings to envelop it, creating a structural mass similar to brick, with less bricks required to be laid on it than an ordinary cavity wall.
Rock and Boulder
Professional stone-wall builders have been doing this for centuries. Ireland is a great example of how it can look. These days, if you're ambitious and don't mind a bit of set-up, we could create these walls in your own garden — the dry wall technique — by using either many small natural stones and aggregate (e.g., gravel) or bigger boulders materials like granite mixed up with some moss, compost or mulch as your foundation/matrix to "pave" your wall surface.
Dry Stone
Throughout New England, dry stone walls of colonial times are still abundant in the countryside, even though traditional mortar-less dry wall construction has mostly disappeared. Dry stone walls are not just a building trade; they are also an interesting historical craft. People have realized that to maintain the dry wall, the interior water must be removed or frozen before any square inch can become compromised. This type of construction is more difficult than it may seeming because freeze-thaw cycles can ruin its structure.
Dry Boulder
Another method of using natural dry stone is to place boulders to hold back the ground, but it should not be considered as solid as a more traditional retaining wall.
Block
Concrete blocks are widely available and easy to work with, making them the most important structural component in retaining walls. Over time they have evolved into more aesthetically appealing split face units that provide both physical structural stability and aesthetics.