Here at Mississippi Brick Masonry, you can choose among different sizes, colors, and textures of pavers, bricks, stones, and other custom designed materials at an affordable cost.
For timeless look that lasts for generations, custom stone work is the way to go. With years of experience working on patios, grills, fireplaces and more.
Custom made masonry can be made simple with our company. We can get you the highest-quality materials and offer you a great services for clients on huge or small projects.
Naturally, we care about how it looks and the end result. You will be involved in the planning and design and we will build it based on what you need and want. You design it we build it!
We are perfect for you Custom Made Masonry Project!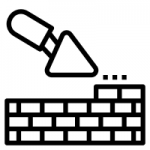 When mother nature doesn't provide stones in the places that accent your home or landscape adequately, our team of professionals stands ready to help out. For timeless look that lasts for generations, custom made masonry stone work is the way to go. With years of experience working on patios, grills, fireplaces and more.
Mississippi Brick Masonry can help you build a custom look for your home while also providing access to custom design stones to give your vision a look that blends seamlessly while project is being built. You can have a number of other concerns, such as the design of the bricks, resolved before our start using natural and pre-cast materials to highlight beauty add interest to home.
Custom  Fireplaces
We have the most extensive exhibit of custom fireplaces in Hattiesburg, MS and surrounding areas. We are perfect for creating unique custom made fireplaces to suit anyone's needs. Want a big enough fireplace to stand in? We can do that. Want a 20-foot beautifully framed brick fireplace that wraps around your whole wall? That wasn't a question, was it?
Custom Outdoor Kitchens
The outdoor kitchen is generally just for grilling and cooking outdoors nowadays, with options that include an island, grill, and refrigerator to put food away.
When designed as a custom made outdoor space, an outdoor kitchen can become a place to extend casual gatherings with family and friends or be a welcoming space for the single homeowner to unwind. Our masonry features are designed to provide additional ways for homeowners to enjoy their backyard living space.
Custom Mailbox Design
Our stone masons can provide a custom made mailbox for your front yard real estate project that complements the exterior design of your home, your walkway, or your driveway.
Mailboxes can be made of natural materials like brick, stone, or wood. They can stand alone, they can include 1 to 4 flower boxes or planters, or they can even include slots for newspapers. Some customers also ask for the bricks to be purposefully made with high-quality mortar.
Arches
Stone arches and entrances invite people into your outdoor space with class and dignity. If you are looking to add a classy change to the outside of your home, then installing a custom made entrance will accomplish that.
Stone entrances can be fully customized in the style, colors, and stone products you want. We can also design the stone entrance in a way to fit your house or backyard structures perfectly.
Custom Made Brick Wall and Pillar
There is a range of pillars and wall designs available for your outdoor area, ranging from decorative to privacy preserving. Some custom designed include patio or fence obstructions so you can control what people see from their yard.
Patio walls and pillars provide privacy and an accent exterior addition to your project.
Other Custom Design Projects
If you have other custom made masonry projects just give us a call with the details.